In this article you will discover all the solutions available on how to watch Netflix legally outside the US
Sorry Netflix is not available in your country yet fix
You probably tried to access Netflix.com but you got this instead "Sorry, Netflix is not available in your country yet."
This error message appears because your IP address doesn't correspond with one of the countries where Netflix is available.
So what is Netflix? I will tell you right now. Netflix is an American based provider of on-demand internet streaming media available to viewers in the following countries: United States , United Kingdom , Canada , Australia , New Zealand , France , Germany, Italy , Netherlands , Switzerland , Austria , Ireland , Luxembourg , Belgium , Denmark, Norway , Sweden , Finland and Latin America.
What if I told you that you can watch Netflix legally from anywhere in the world ?
If you want to watch Netflix US TV Shows like "House of Cards" , "Orange Is The New Black" , "Hemlock Grove" ,"Marco Polo" etc, as soon as they appear in America, in addition to a paid Netflix account which can  be paid with a prepaid card made online here you also need to use one of the following solutions:
Proxy server or Browser extensions to watch Netflix legally
This method of watching Netflix legally is free, the proxy server is an authorized intermediary of your PC and your PC connects to the internet via the Proxy Server, which then accesses remote server applications and web services on your behalf.
Unfortunately, as always, you get what you pay for and most of the time these services are not stable. There is nothing worse than your movie or video cutting our just as you are getting to a good bit. You might want to keep also in mind that these extensions do not offer you the best speed and quality as these services tend to be overloaded with users because they are free.
How to watch Netflix legally from outside US using VPN Service
A VPN or Virtual Private Network extends a private network over a public network such as the internet. In this case, it means that your computer or even your entire network will be securely routed through a VPN server in a supported country. Using a VPN provides many benefits especially when it comes to security and anonymity, however it is not an ideal solution for streaming media.
The biggest draw back with a VPN is that it encrypts and routes your entire internet connection through a remote server that may be many thousands of miles away. This means that every piece of internet data (ie the movie you want to watch) has to go via the remote server before it gets to you and this can cause a bottleneck. This is especially true when streaming HD or even HDX content.
If you want to use a VPN service we recommend our sister site www.my-private-network.co.uk a very stable and 5 star rated VPN on Trustpilot.
Smart DNS services to watch Netflix legally outside US
A Smart DNS service is another method you can use to access geographically restricted or geo-locked content. If you are not currently located within a specific area with "smart DNS" you effectively pretend to be where ever the particular content is available. So for example, if you are using our service SimpleTelly.com with Netflix, you can choose to be in any one of 11 regions worldwide and enjoy Netflix as if you were physically there, be it the USA, UK, France, Brasil or any other supported region.
A Smart DNS Proxy server helps users bypass regional restriction online to unblock content by acting as an intermediary system between the website and your internet capable device. However, unlike a standard Proxy solution, a Smart DNS solution only intercepts the particular bits of your connection that indicate you are not in the desired country. This means that onces you start streaming the video, you are able to stream at your full bandwidth and are not restricted by the capacity of a remote server.
A premium smart DNS proxy service is typically a paid online subscription service which is paid for by the internet user wishing to unblock content from certain websites. A smart DNS proxy server operates by intercepting data including the data normally used to verify a user's location when trying to access blocked content online
There are a lot of free services and browser extensions that promise to give you access to blocked channels, but from what we have tested ourselves, you get what you pay for and whilst a free service will probably work at least some of the time, if you want trouble free streaming that works the first time and every time you probably need to pay a small fee for it.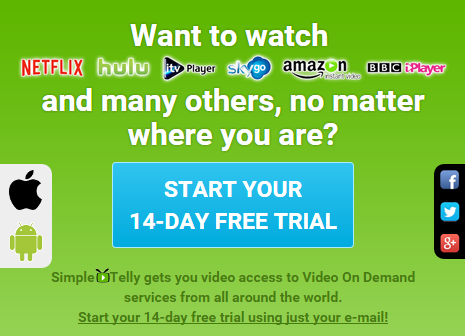 So what is SimpleTelly?
In short for a monthly subscription of only $4, SimpleTelly lets you access video and audio streaming services that you normally do not have access to in your country.
For example you can access Netflix legally plus a lot more like Hulu, Amazon, ITV Player, SkyGo, BBC iPlayer and Sky Now. These are just some of the services that can be accessed.
Some of these services, like Netflix, require a subscription with the provider themselves, others such as Hulu use a 'freemium' or 'paywall' concept, whereby some of the content is free, but you need to pay for most of the good stuff, and then there are the entirely free services like BBC, Crackle and ITV. You can see a full list of available services on our services page.
How does Simpletelly work?
Our service works by intercepting the geographically sensitive bits of your connection to a particular service.
Once you have an account with us, you will need to register your IP and then configure your system to use our DNS servers. This is fairly straight forward and we have servers in 26 countries, so you should be able to find one close to you. Once you have done that, we are able to intercept the necessary packets and route them accordingly. Using our Region Selection tool, you can also specify which services you wish to enable and in the case of Netflix, which region you wish to appear to be in.
There are similar services that work via a VPN, but the main difference between SimpleTelly and VPN services is that we only need to route specific parts at the start of the video stream and from then on your computer streams directly from Netflix legally with the maximum speed provided by your internet provider. With a VPN everything has to be routed through the remote server, so the connection will be slower. In addition SimpleTelly has no traffic limit or bandwidth cap.
And yes this way you can watch Netflix legally from all over the world.
Another great advantage that SimpleTelly offers is that you can stream on any device: computer, smart phone, table, game console ,smart tv, router and media players, you can use any or all of them to access your preferred content. With a Proxy solution or VPN solution, you are usually restricted to using a computer or tablet.
You can try SimpleTelly free for 14-days and you don't even need a credit card.