The United States Open Championship, or more widely known as the U.S. Open, is an annual open golf tournament in the United States. It is the second of the four major championships in professional golf, and is on the official schedule of both the PGA Tour and the European Tour. It is organised by the United States Golf Association (USGA) in mid-June, scheduled in such a way that if there are no delays, the final round will be played on the third Sunday, which is Father's Day.
The U.S. Open takes place at a variety of different courses, and is set up in such a way that scoring is very difficult with an emphasis placed on accurate driving.
U.S. Open play is characterized by tight scoring at or around par by the leaders. Winners commonly emerge at around even par. A U.S. Open course is rarely beaten severely. Over the years, there have been many over-par wins. Usually, an Open course is quite long and will have a high cut of primary rough, undulating greens, and pinched fairways. Some courses that are pushing to get into the rotation for the U.S. Open will undergo extensive renovations to develop these features.
As with all professional golf tournaments, the available space around the course and local infrastructure also factor into deciding which courses will host the event.
The U.S. Open is open to any professional or amateur with an up-to-date men's USGA Handicap Index below 1.4.
Players (male or female) may obtain a place by being fully exempt from qualifying or by competing successfully in qualifying. The field is 156 players.
Almost half of the field is made up of players who are fully exempt from qualifying.
As of the most recent U.S. Open in 2014, the exemption categories are:

Group 1 tee off times: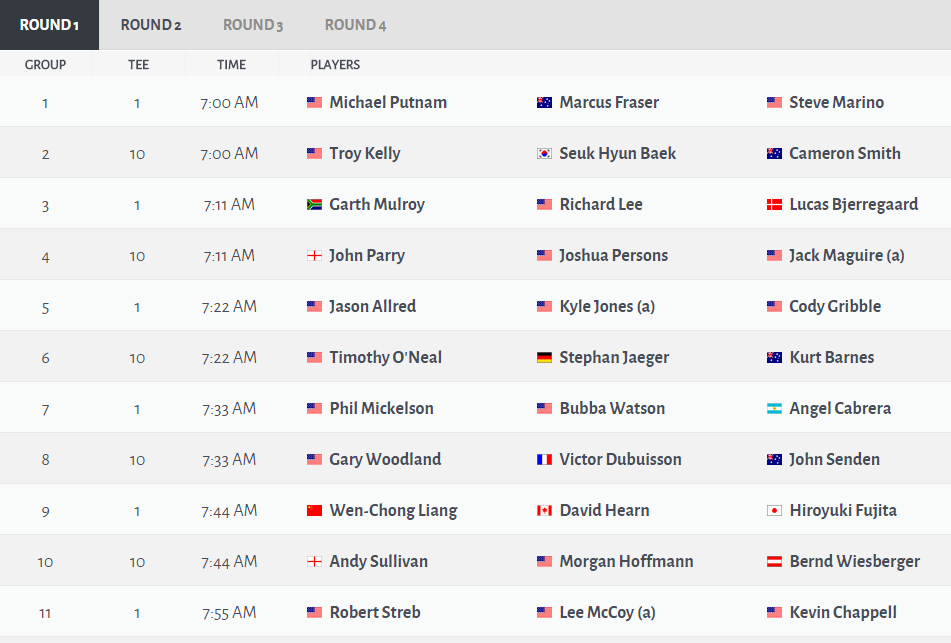 For further information on the rest of the players, their groups and tee off times, please visit the US Open website.
The US Open begins on 18th June 2015 and is scheduled to end on the 21st  ofJune.
Tee off with SimpleTelly and the following channels: